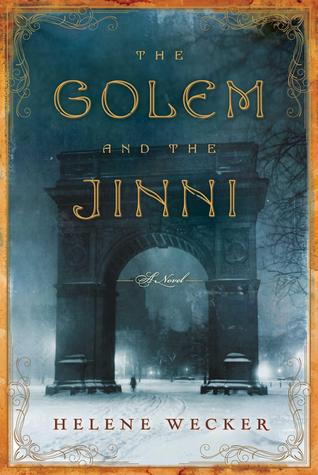 Chava is a golem, a creature made of clay, brought to life by a disgraced rabbi who dabbles in dark Kabbalistic magic. When her master, the husband who commissioned her, dies at sea on the voyage from Poland, she is unmoored and adrift as the ship arrives in New York in 1899.

Ahmad is a jinni, a being of fire, born in the ancient Syrian desert. Trapped in an old copper flask by a Bedouin wizard centuries ago, he is released accidentally by a tinsmith in a Lower Manhattan shop. Though he is no longer imprisoned, Ahmad is not entirely free – an unbreakable band of iron binds him to the physical world.

The Golem and the Jinni is their magical, unforgettable story; unlikely friends whose tenuous attachment challenges their opposing natures – until the night a terrifying incident drives them back into their separate worlds. But a powerful threat will soon bring Chava and Ahmad together again, challenging their existence and forcing them to make a fateful choice.
My Thoughts on the Book
I have been meaning to read this book for a long time, it has gotten a lot of praise and sounded like an interesting read. This is a fantasy and it is also a book about friendship as well as a very interesting take a peoples first impression of coming to America in the 1900s.I found myself really understanding and immersed in the time period perfectly. It was not what I expected at all but still I could not put it down either, it is a beautifully written and executed story.