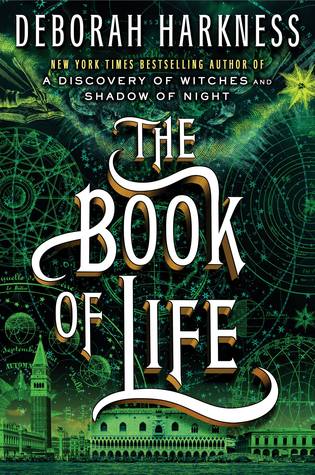 After traveling through time in Shadow of Night, the second book in Deborah Harkness's enchanting series, historian and witch Diana Bishop and vampire scientist Matthew Clairmont return to the present to face new crises and old enemies. At Matthew's ancestral home at Sept-Tours, they reunite with the cast of characters from A Discovery of Witches—with one significant exception. But the real threat to their future has yet to be revealed, and when it is, the search for Ashmole 782 and its missing pages takes on even more urgency. In the trilogy's final volume, Harkness deepens her themes of power and passion, family and caring, past deeds and their present consequences. In ancestral homes and university laboratories, using ancient knowledge and modern science, from the hills of the Auvergne to the palaces of Venice and beyond, the couple at last learn what the witches discovered so many centuries ago.

With more than one million copies sold in the United States and appearing in thirty-eight foreign editions, A Discovery of Witches and Shadow of Night have landed on all of the major bestseller lists and garnered rave reviews from countless publications. Eagerly awaited by Harkness's legion of fans, The Book of Life brings this superbly written series to a deeply satisfying close.
My Thoughts on the Book
What can I say, I loved it. Deborah Harkness has woven and wonderful story that pulls threads from the other two books and brings everything full circle. This book was more like the first book for me which I absolutely adored by the way. It is not as world sweeping as the second book but there is still plenty of travel. We meet up with some characters from the past ( chapter 18 made me cheer) and some characters we only heard about in the other books have important roles in this one. We make some new friends and solidify who the real enemies are. There are plenty of surprises in this book that will not allow you to set it down. This is an elegant book that is intelligently written with a lot of heart. Diana and Matthew are two characters I will always love but my heart breaks for Gallowglass; I adore him too and so will you.